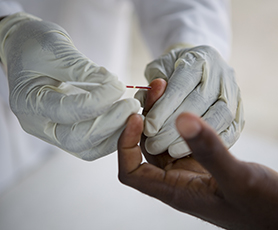 Many NCDs have a long duration and slow progression, and collectively are responsible for nearly 70% of deaths worldwide. The cluster's vision is to have a world free of the avoidable burden of NCDs. Its mission is to reduce the preventable and avoidable burden of morbidity, mortality and disability due to NCDs through multisectoral collaboration, in support of the targets of the 2030 Agenda for Sustainable Development.
The NCD cluster is organized under two umbrellas of work: NCD Integrated Management which covers cardiovascular diseases, diabetes, obstructive lung diseases, mental health and substance abuse; and NCD Primary Prevention which focuses on reduction of key risk factors and determinants including tobacco control, the harmful use of alcohol, violence and injuries, and disabilities. Health promotion is a core area which includes healthy diet, and active living and working.
Priorities are to:
increase the importance accorded to NCD's in development work;
establish and strengthen multisectoral policies;
reduce the four main risk factors for NCDs;
orient health systems to NCD prevention and control through the primary health care approach;
promote research, monitor NCDs and evaluate progress; and
promote effective NCD partnerships.