Dr. Nathan Nsubuga Bakyaita presented his letters of credence to the Minister of Foreign Affairs, Hon. Harry Kalaba at a brief ceremony which was held in Lusaka on 7 December 2017. This follows his recent appointment as the WHO Representative to Zambia. The Minister welcomed Dr. Bakyaita to Zambia and congratulated him on being appointed to his new position as he accepted his letters of credence. He assured Dr. Bakyaita of the Government's commitment to continued collaboration with the World Health Organization in improving the health of Zambians. "A healthy nation is a wealthy nation" he said in emphasizing the importance of health in national development. Hon. Kalaba also recognized the important role WHO plays in health citing how it was instrumental in ending the 2014 - 2015 Ebola outbreak in West Africa.
Dr. Bakyaita thanked the government for its continued collaboration with the World Health Organization and pledged to continue to strengthen the Technical Co-operation Programme during his assignment to Zambia. He said that the WHO in the African Region was undergoing a transformation agenda aimed at making the organization more results oriented and accountable. Dr. Bakyaita said that WHO was committed to improving health through provision of evidence based guidance and sharing of best practices and that it would continue to support government in the unfinished business of the Millennium Development Goals and the 2030 Sustainable Development Goals Agenda.
Dr. Bakyaita is a Medical Doctor and is a Ugandan national. His career in public health spans 26 years of specialization in the areas of HIV/AIDS, malaria and communicable disease surveillance. He joined WHO in 2005. He began his career in WHO at the WHO Regional Office for Africa in 2005 in the Malaria programme and in 2011 he joined the Integrated Disease Surveillance programme. Since 2013, he served as the Malaria Adviser at the WHO Country Office in Kenya, a position he held before his appointment as WHO Representative to Zambia. During the 2014-2015 Ebola outbreak in West Africa, Dr. Bakyaita was deployed in Sierra Leone where he lead a team of epidemiologists charged with revitalizing Integrated Disease Surveillance systems.
Prior to joining WHO, he worked with the Ministry of Health in Uganda in the HIV/AIDS, Malaria and Disease Surveillance programmes.
Dr. Bakyaita holds a Bachelor of Medicine and Bachelor of Surgery (MBChB) degree from Makerere University in Kampala, Uganda and a Masters in Public Health (MPH) from the University of Leeds, United Kingdom.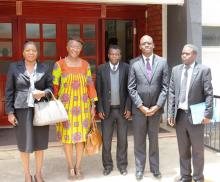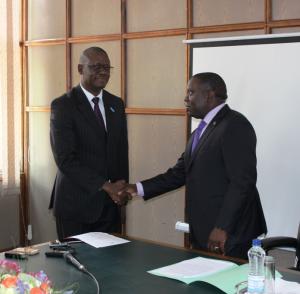 Click image to enlarge
For Additional Information or to Request Interviews, Please contact:
HO Country Office, UN ANNEX BUILDING
Plot 4609, Corner of Andrew Mwenya and Beit Roads, Rhodes Park
P.O. Box 32346, Lusaka, Zambia.
E-mail: mweemban [at] who.int
GPN: 37609
Tel No: + 260-211-255 398 / 255 336 / 255 322
Mobile: + 260 - 977873976,
Fax: + 260-211-252863
Skype: masowe136
"The enjoyment of the
highest attainable standard of health …."
(WHO Constitution).