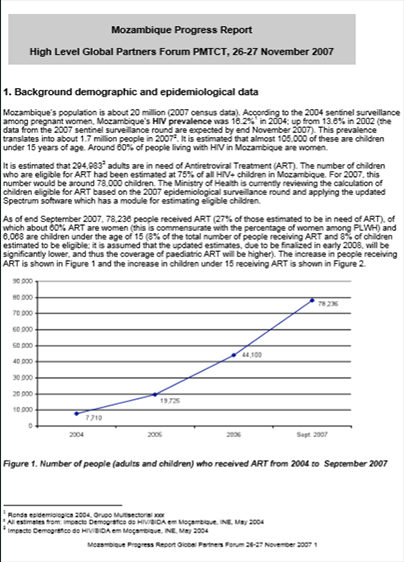 HIV/AIDS: Mother-to-child transmission (English)
Mozambique's population is about 20 million (2007 census data). According to the 2004 sentinel surveillance among pregnant women, Mozambique's HIV prevalence was 16.2%1 in 2004; up from 13.6% in 2002 (the data from the 2007 sentinel surveillance round are expected by end November 2007). This prevalence translates into about 1.7 million people in 20072 . It is estimated that almost 105,000 of these are children under 15 years of age. Around 60% of people living with HIV in Mozambique are women.
It is estimated that 294,9833 adults are in need of Antiretroviral Treatment (ART). The number of children who are eligible for ART had been estimated at 75% of all HIV+ children in Mozambique. For 2007, this number would be around 78,000 children. The Ministry of Health is currently reviewing the calculation of children eligible for ART based on the 2007 epidemiological surveillance round and applying the updated Spectrum software which has a module for estimating eligible children.