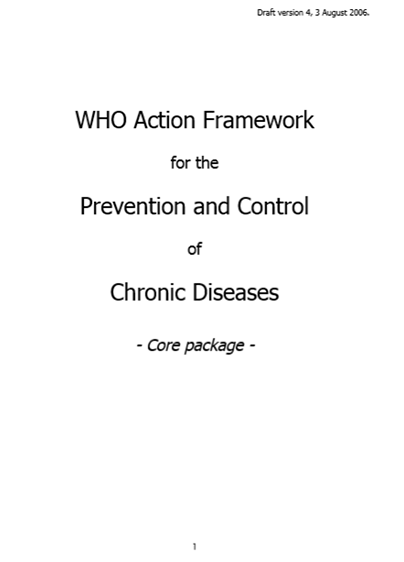 Noncommunicable diseases ( English)
This overview document is part of the WHO Action Framework for the prevention and control of chronic diseases. This WHO Action Framework provides practical information to assist Member States to improve their prevention and control of chronic diseases.
The Preventing Chronic Diseases report [1] illustrated that chronic diseases like heart diseases, stroke, cancer, chronic respiratory diseases and diabetes are by far the leading cause of death in the world and their impact is steadily growing. It is estimated that chronic diseases will account for 60% of all deaths in 2005. Deaths due to chronic diseases are projected to increase by 17% over the next ten years. The major causes of chronic diseases are known, and if these risk factors were eliminated, at least 80% of all heart disease, strokes and type 2 diabetes would be prevented; over 40% of cancer would be prevented. A full range of chronic disease interventions are cost-effective for all regions of the world.