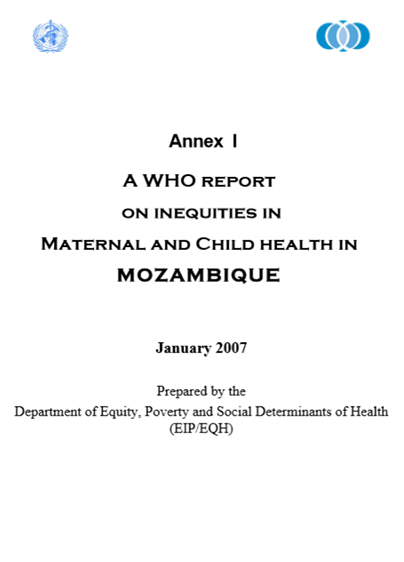 Pregnancy ( English)
In August 2006, the Honourable Minister of Health of Mozambique, Dr. Paulo Ivo Garrido met with WHO officials from the Department of Equity, Poverty and Social Determinants of Health (EQH) in Maputo. The Minister identified maternal and child health as pressing but relatively neglected issues in Mozambique, especially given the recent focus on HIV/AIDS. He proposed that it would be most useful if EQH could help identify and provide suggestions for actions related to reducing maternal mortality and child malnutrition in the country with an emphasis on tackling inequities across socioeconomic groups.
Given the focus identified by the Minister of Health, this report is divided into two main sections: (1) maternal health, and (2) child malnutrition. Each section consists of an introduction to the specific problem, an analysis of the current situation and trends, a more in-depth analysis on factors associated with the particular health outcome, and recommendations on actions to reduce inequities in maternal health and child malnutrition.