Brazzaville, Congo 4 September 2017 - Health research experts are meeting in Brazzaville, Congo today to discuss some of the pressing issues facing research in the Region. The meeting which is being attended by the members of the African Advisory Committee on Health Research and Development (AACHRD), aims to identify the region's health research priorities and the use of evidence to address priority public health problems.
Speaking at the opening session, the World Health Organisation's Regional Director for Africa Dr Matshidiso Moeti noted that universal health coverage (UHC) cannot be achieved without evidence from research to develop the technology, systems and services needed to optimize existing tools, and discover new ones to improve human health and development in the African Region.
"There is also a huge need for research evidence on the causes of ill-health in different settings, the necessary health services, and the high double burden of communicable and noncommunicable diseases. This will require innovative and pragmatic approaches to fully engage research as a tool for attaining UHC," she said.
The use of health data and research evidence for accountability and decision making is weak in the African Region and a comprehensive research agenda is vital to guide countries to make the best use of limited resources.
As countries strive to attain UHC, there are many unsolved questions on how to provide access to health services and financial risk protection to all people in all settings. The experts will make proposals on research that will provide the evidence to help countries to develop a system of UHC tailored to each individual country's situation. An agreement on a set of strategic health research priorities for the African Region as well as an action plan to strengthen the use of evidence, information and research for policy-making are expected from the 2-day meeting.
The AACHRD is established to provide advice to the Regional Director on the Organization's second core function, that is "shaping the research agenda and stimulating the generation, translation and dissemination of valuable knowledge.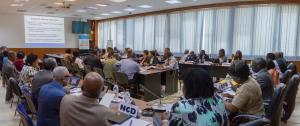 Click image to enlarge
For Additional Information or to Request Interviews, Please contact:
Regional Adviser - Health Research
Tel: + 242 06 9586652
Email: otama [at] who.int
Acting Communications Adviser
Tel: + 242 06 520 6565
Email: boakyeagyemangc [at] who.int