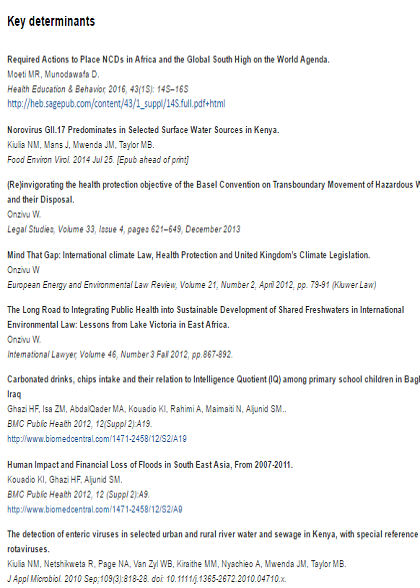 Key determinants
Required Actions to Place NCDs in Africa and the Global South High on the World Agenda.
Moeti MR, Munodawafa D.
Health Education & Behavior, 2016, 43(1S): 14S–16S
http://heb.sagepub.com/content/43/1_suppl/14S.full.pdf+html
Norovirus GII.17 Predominates in Selected Surface Water Sources in Kenya.
Kiulia NM, Mans J, Mwenda JM, Taylor MB.
Food Environ Virol. 2014 Jul 25. [Epub ahead of print]
(Re)invigorating the health protection objective of the Basel Convention on Transboundary Movement of Hazardous Wastes and their Disposal.
Onzivu W.
Legal Studies, Volume 33, Issue 4, pages 621–649, December 2013
Mind That Gap: International climate Law, Health Protection and United Kingdom's Climate Legislation.
Onzivu W
European Energy and Environmental Law Review, Volume 21, Number 2, April 2012, pp. 79-91 (Kluwer Law)
The Long Road to Integrating Public Health into Sustainable Development of Shared Freshwaters in International Environmental Law: Lessons from Lake Victoria in East Africa.
Onzivu W.
International Lawyer, Volume 46, Number 3 Fall 2012, pp.867-892.
Carbonated drinks, chips intake and their relation to Intelligence Quotient (IQ) among primary school children in Baghdad city, Iraq
Ghazi HF, Isa ZM, AbdalQader MA, Kouadio KI, Rahimi A, Maimaiti N, Aljunid SM..
BMC Public Health 2012, 12(Suppl 2):A19.
http://www.biomedcentral.com/1471-2458/12/S2/A19
Human Impact and Financial Loss of Floods in South East Asia, From 2007-2011.
Kouadio KI, Ghazi HF, Aljunid SM.
BMC Public Health 2012, 12 (Suppl 2):A9.
http://www.biomedcentral.com/1471-2458/12/S2/A9
The detection of enteric viruses in selected urban and rural river water and sewage in Kenya, with special reference to rotaviruses.
Kiulia NM, Netshikweta R, Page NA, Van Zyl WB, Kiraithe MM, Nyachieo A, Mwenda JM, Taylor MB.
J Appl Microbiol. 2010 Sep;109(3):818-28. doi: 10.1111/j.1365-2672.2010.04710.x.
Health in Global Climate Change Law: The Long Road to an Effective Legal Regime Protecting both Public Health and the Climate.
Onzivu W
Carbon and Climate Law Review, 2010(4) pp. 364-382
Eco-patent commons: Implications for Technology Transfer to fight climate change.
Onzivu W, Mark Van Hoorebeek.
Carbon and Climate Review, Volume 4, Number 1, March 2010, pp. 13-29 (17) Lexxion, Berlin, 2010.
Tackling the Public Health Impact of Climate Change: The role of domestic environmental health governance mechanisms in developing countries.
Onzivu W.
The International Lawyer, Vol. 43, Issue 3, (2009)
"International Environmental Law, the Public's Health and Domestic Environmental Governance in Developing Countries".
Onzivu W.
American University International Law Review 21(4), 2006, 597-684
Predictors of toilet ownership in South Africa.
Kirigia, J.M. and Kainyu, L.H. (2000).
East African Medical Journal, 77(12): 667-672.
http://www.ajol.info/index.php/eamj/article/view/46767