Family planning services are a key pillar in safe motherhood and also are a critical intervention in the continuum of care. They are also an indispensable component of the Sustainable Development Goal on health targets aimed at reducing maternal and newborn mortality and morbidity. Unintended pregnancies, resulting from unmet need for family planning/contraception, threaten the lives and well-being of women and girls and their families. The World Health Organization (WHO) updated the Medical Eligibility Criteria (MEC) for contraceptive use in 2015 in order to improve the provision of quality family planning services.
Zambia under the leadership of the Ministry of Health adapted the 2015 WHO MEC wheel with technical support from WHO as part of achieving the National FP2020 eight year plan and to support the scaling-up of provision of Postpartum Family Planning (PPFP) services.
The copies of the printed MEC wheel were handed over to the Ministry of Health Permanent Secretary-Administration, Dr. Kennedy Malama by the WHO Representative, Dr. Nathan Bakyaita. When handing over the wheel, Dr. Bakyaita emphasized that the WHO 2015 MEC wheel was updated to improve quality and access to modern contraceptive methods. He informed the PS that the wheel illustrates how the contraceptive methods relate with pre-existing medical conditions, personal characteristics, drug and certain health problems. Dr. Malama said that the Zambian government was committed to improving maternal, neonatal and child health, as evidenced by the decrease in Maternal Mortality Ratio from approximately 751 per 100,000 live births in 2000 (ZDHS) to the current 398 in 2014 (ZDHS). He also stated that government was currently implementing the 7 National Development Plan whose focus was on sustained growth and socio-economic transformation and the five year National Health Strategic Plan using a multi-sectoral approach. At the same occasion, the Reproductive and Women's Health focal point at the WHO Inter-Country Support Team for Eastern and Southern Africa (IST/ESA), Dr. Nancy Kidula demonstrated how the wheel works and its advantages. The MEC wheel was appreciated as a user friendly tool that will be easy to use. The MEC wheel will be disseminated to training institutions and health facilities to improve provision of family planning at all service delivery points.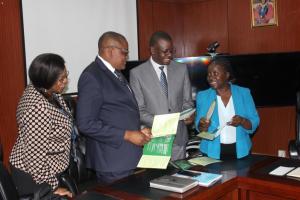 Click image to enlarge
For Additional Information or to Request Interviews, Please contact:
HO Country Office, UN ANNEX BUILDING
Plot 4609, Corner of Andrew Mwenya and Beit Roads, Rhodes Park
P.O. Box 32346, Lusaka, Zambia.
E-mail: mweemban [at] who.int
GPN: 37609
Tel No: + 260-211-255 398 / 255 336 / 255 322
Mobile: + 260 - 977873976,
Fax: + 260-211-252863
Skype: masowe136
"The enjoyment of the
highest attainable standard of health …."
(WHO Constitution).