World Health Assembly
World Health Assembly
The World Health Assembly is the highest decision-making body of WHO. It is attended by delegations from all WHO Member States and focuses on a specific health agenda prepared by the Executive Board.The main functions of the World Health Assembly are to determine the policies of the Organization, appoint the Director-General, supervise financial policies, and review and approve the proposed programme budget. The Health Assembly is held annually in Geneva, Switzerland.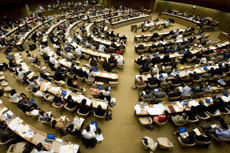 Next Health Assembly
Executive board
Executive Board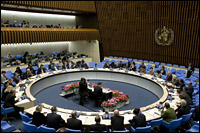 The Executive Board is composed of 34 members technically qualified in the field of health and elected for three-year terms. It meets twice in a year in Geneva to review resolutions and the agenda for the World Health Assembly, and administrative matters. The main functions of the Board are to give effect to the decisions and policies of the Health Assembly, to advise it and generally to facilitate its work.
Chairman and Officers of the Executive Board
Ambassador Maria Nazareth Farani Azevêdo (Brazil)
Chairman
Ms Glenys Beauchamp (Australia)
Vice-Chairman
Dr Simon Mfanzile Zwane (Eswatini)Vice-Chairman
Dr Päivi Sillanaukee (Finland)
Vice-Chairman
Dr Rajitha Senaratne (Sri Lanka)
Vice-Chairman
Dr Mohammed Jaber Hwoal Al-Taae (Iraq)
Rapporteur
Notes for the record
Meetings of the Director-General with the Officers of the Executive Board
Composition of the Executive Board (African Region)
Algeria

Pr. Lhadj Mohamed - May 2016 – Jan. 2019
Directeur général des services de santé et de la réforme hospitalière


lhadjmoh

[at]

yahoo.fr

/lhadjm@santé.gov.dz
Dr Radhia Kraiba - Alternate
Chargé de Programme au Ministère de la Santé et de la réforme hospitalière


kraiba.radhia

[at]

gmail.com

Burundi

Dr Thaddée Ndikumana / May 2016 - Jan 2019
Ministre de la Santé Publique et de la Lutte contre le sida
Dr Isaac Minani - Alternate
Directeur general des Services de Santé et de la Lutte contre le sida


minisa63

[at]

yahoo.fr

Gabon

M. Martin Essono Ndoutoumou / May 2018 – Jan. 2021
Directeur Général de la planification des infrastructures sanitaires et des équipements


martessono

[at]

yahoo.fr

Dr Agnès Mibindzou - Alternate
Coordonnateur des comptes nationaux de la santé


ammzou

[at]

csgabon.info

Benin

Dr Codjo Didier Agossadou / May 2017 – Jan. 2020
Secrétaire Général du Ministère


didieragossadou

[at]

yahoo.fr

Dr Edmond Sossa
Conseiller Technique au Partenariat Sanitaire

Eswatini

Dr Simon Mfanzile Zwane / May 2017 – Jan. 2020
Principal Secretary


smz115

[at]

gmail.com

Dr Samuel Vusie Magagula
Director of Health Services


magagulasam

[at]

gov.sz

Tanzania

Dr Mpoki M. Ulisubisya / May 2017 – Jan. 2020
Permanent Secretary


drmpoki

[at]

gmail.com

Pr. Muhammad Bakari Kambi
Chief Medical Officer


drbakari

[at]

yahoo.com

Zambia

Dr Jabbin Mulwanda / May 2017 – Jan. 2020
Permanent Secretary


jabbinmulwanda

[at]

gmail.com

Dr Kennedy Malama
Director Health Promotion Environment & Social Determinants


malamakennedy

[at]

gmail.com
---
Regional Committee for Africa
Regional Committee for Africa
The WHO Regional Committee for Africa is the Organization's decision-making body in the African Region. It comprises of Ministers of Health or their representatives from each of the 47 Member States in the region.
Among the functions of the Regional Committee are:
formulate regional policies;
supervise WHO/AFR's activities;
comment on the regional component of WHO's proposed programme budget;
nominate the Regional Director for Africa every five years and transmit their decision to the WHO Executive Board for endorsement.
The Regional Committee meets as often as necessary and the Regional Director acts as its Secretary.
Rules of Procedure of the Regional Committee for Africa [pdf 550kB]
​
68th Session of the WHO Regional Committee for Africa
The Sixty-eighth session of the WHO Regional Committee for Africa was held in Dakar, Senegal, from 27 to 31 August 2018.
Programme Subcommittee
Programme Subcommittee
The Programme Subcommittee (PSC) is a subsidiary body of the Regional Committee. It assists the Regional Committee by reviewing the budget, strategies, reports and proposed resolutions and advising on policy and governance matters.
The Programme Subcommittee consists of 16 representatives of Member States. In addition, three Executive Board members from the African Region attend the subcommittee meetings.
Dowload the terms of reference of the PSC of the WHO Regional Committee for Africa [pdf]
Programme Subcommittee Members (Rev. 24/APR/2018)

Angola Dr Balbina Ventura Felix
Aug. 2017 – Jun. 2020 Consultant Minister for Public Health Services
Botswana Dr Khumo Seipone
Aug. 2017 – Jun 2019 Director, Health Services
Cameroon Dr Hamadou Ba
Aug. 2017 – Jun 2020 Chef de la Division de la Coopération
Ethiopia Dr.Desalegn Tigabu
Aug. 2016 – Jun. 2019 Director for the Plan and Policy Directorate
Kenya Dr Peace Masinde
Nov. 2015 – Jun. 2018 Head or International Health Relations
Liberia Dr Samson K. Arzoaquoi
Nov. 2015 – Jun. 2018 Deputy Minister for Health Services
and Chief Medical Officer
Mauritania Pr Lô Baïdy
Aug. 2016 - Jun 2019 Chargé de mission
Namibia Ms Bertha Katjivena
Nov. 2015 – Jun 2018 Director
Nigeria Dr Emmanuel Meribole
Aug. 2016 – Jun 2019 Acting Head of Department, Dapartment
of Health Planning, Research and Statistics
Rwanda Dr Zuberi Muvunyi
Aug. 2017 – Jun 2020 Director General Clinical Services
Sao Tome & Principe Dr Carlos Alberto Bandeira d'Almeida
Aug. 2016 – Jun 2019 Directeur du Centre National des Endémies
Senegal Dr Marie Khermesse Ngom Ndiaye
Aug. 2017 – Jun. 2020 Directrice Générale de la Santé
Seychelles Dr Meggy Belle louange
Nov. 2015 – Jun 2018 Director General for Public Health
Sierra Leone Dr Thomas T. Samba
Nov. 2015- Jun 2018 District Medical Officer
South Africa Dr Yogan Pillay
Aug. 2016 – Jun 2019 Deputy Director-General
Togo Dr Kokou Wotobe
Aug. 2017 – Jun 2020 Directeur des Etudes, de la Planification
et de la Programmation par intérim
Uganda Dr Timothy Musila
Nov. 2015 – Jun 2018 Senior Health Planner
Zimbabwe Dr Gibson Mhlanga
Aug. 2017 – Jun. 2020 Principle Director, Preventive Services
Transformation Agenda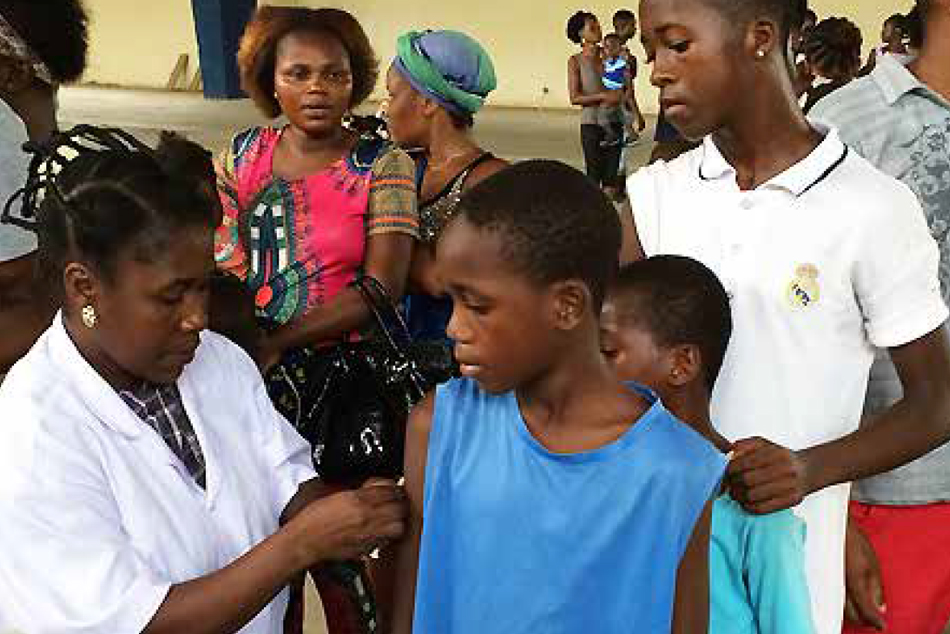 Transformation Agenda
The Transformation Agenda of the World Health Organization Secretariat in the African Region is a vision and a strategy for change aimed at facilitating the emergence of the WHO that the staff and stakeholders want.
It is a result of consultations with staff members within and outside the WHO African Region, and stakeholders from outside the Organization. The Transformation Agenda covers four focus areas:
pro-results values
smart technical focus
responsive strategic operations
effective communications and partnerships
Governance Reform
Governance Reform
The evolution of WHO's work and the increasing number of entities associated with global health has necessitated changes in the way WHO is governed, and the way WHO engages with external stakeholders. In this regard, WHO's governance reform aims to strengthen both the internal governance of WHO by Member States, as well as the role of WHO in global health governance.
GOVERNANCE REFORMThe proposals for change in respect of internal governance focus on improving the work of the governing bodies – the World Health Assembly, the Executive Board and the Regional Committees – including strengthening global-regional linkages. The fundamental objectives for the internal governance reforms are to foster a more strategic and disciplined approach to priority setting, to enhance the oversight of the programmatic and financial aspects of the Organization, and to improve the efficiency and inclusivity of intergovernmental consensus-building.
In relation to WHO's engagement with external stakeholders, WHO is exploring ways to more effectively collaborate with relevant stakeholders including nongovernmental organizations, partnerships, the private sector, foundations, and other relevant stakeholders with a view to promoting greater coherence in global health. The challenge here is to determine how WHO can engage with a wider range of players without undermining its intergovernmental nature or opening itself to influence by those with vested interests. Moreover, governance reforms aim to strengthen the multilateral role of WHO and to capitalize more effectively on WHO's leadership position in global health.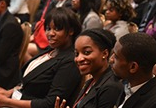 Informal consultation on WHO's engagement with WHO COUNTRY & LIAISON OFFICES non-state actors
This consultation, 17–18 October 2013 at WHO, Geneva and via web link, informed the drafting of reform proposals to be submitted to the Executive Board at its 134th session in January 2014