Dakar/ Brazzaville, 20 August 2018 - Ministers of Health and senior officials from 47 African countries will meet in Dakar, Senegal for the 68th session of the World Health Organization (WHO) Regional Committee for Africa, scheduled to take place from 27 – 31 August 2018.
This annual flagship gathering will also be attended by over 400 delegates including WHO Director-General Dr Tedros Adhanom Ghebreyesus, Dr Matshidiso Moeti, WHO Regional Director for Africa, Representatives of UN Agencies, Funds and Programmes, civil society, bilateral, multilateral organizations and other development partners.
High on the agenda of the meeting is the launch of a new report on the State of Health in Africa. The report provides a comprehensive overview of the state of health; the state of health and related services and the state of health systems performance and how these affect the attainment of the 2030 Agenda and the SDGs in the region.
The report notes that people in Africa still have access to a very limited range of services – a situation that is contrary to the expectations of universal health coverage. Adolescents, and elderly persons in Africa are particularly left behind. In addition, countries are not effectively ensuring that services are person centred and responsive.
According to the report, an analysis of the performance of the health system across the Region shows that they are performing at nearly half (49%) of their full capacity. Access to essential services and resilience of systems to shocks are the most critical variables limiting system performance.
With over 150 000 cholera cases, including 3000 deaths, reported from 17 countries in the African Region in 2017 alone, delegates will discuss proposals aimed at eliminating cholera by 2030. The proposals include strengthening epidemiological and laboratory surveillance, mapping cholera hotspots, improving access to timely treatment, strengthening partnerships and community engagement, increasing investments in clean water and sanitation for the most vulnerable communities, and promoting research.
The delegates will also discuss the challenges and proposed actions to be taken by Member States and partners to address the slow progress in tackling the rising noncommunicable diseases (NCDs) in the region.
The need to ensure that people have access to medicines is one of the issues on the agenda among others. Despite progress in access to treatment and prevention for some diseases in recent years, many countries are still struggling to provide full access to the health products their populations need. In addition, the rise in non-communicable diseases (such as cancer and diabetes), under-resourced health systems and the high cost of new medical products are undermining governments' commitments to reduce out-of-pocket (OOP) expenditure on medicines and other health services. Some of the recommendations to be deliberated are the need for stronger pharmaceutical policies, better quality oversight of medical products, collaboration on health products procurement.
The Regional Committee, WHO's Governing Body in the African Region reviews WHO's work in the Region and give orientations on actions to improve the health situation in Member States.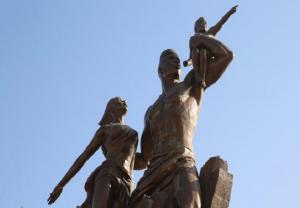 Click image to enlarge
For Additional Information or to Request Interviews, Please contact:
Communications and marketing officer
Tel: + 242 06 520 6565
Email: boakyeagyemangc [at] who.int
Communications Manager
WHO Regional Office for Africa
Cell: +242 06 508 1009
Email: okas [at] who.int
Email: mbenguek [at] who.int