Dr Matshidiso Moeti, the World Health Organization (WHO) Regional Director for Africa, started her first official three-day visit to the Republic of Congo on 14 February to enhance cooperation on strengthening the country's health system.
Dr Moeti will meet with President Denis Sassou Nguesso, who has stated recently that health is a priority in the country's development plans. Congo increased its investment in the health sector from 5% in 2017 to 11% in 2018 of its national budget. Among other reforms, the country is putting in place a centralized procurement system which will ensure a steady supply of quality medicines.
WHO has a country office located in Brazzaville, but the capital city of the Republic of Congo, Brazzaville, is also the headquarters of WHO Regional Office for Africa. The Organization is working with the country's health authorities on many levels. WHO is supporting the development of a national health plan, which aims to provide better primary health care by making health districts more effective. In addition, it is supporting on the improvement of laboratory services and surveillance capacities as well as ensuring that the new Centre for the Procurement of Essential Medicines and Health Products (CAMEPS) has up-to-date procedures and adequate staffing. WHO is also helping the Faculty of Health Sciences to improve the quality of its teaching. WHO's Health Emergencies team is fully involved in supporting the country's efforts to prevent the cholera outbreak in the neighboring Democratic Republic of Congo from crossing over into the Republic of Congo.
"WHO is committed to supporting the Republic of Congo in its drive to significantly strengthen its health services," said Dr Moeti. "This visit is an opportunity to map out our strategic areas of collaboration and help ensure the country's health system functions efficiently and effectively."
Dr Moeti will meet with the Prime Minister of Congo, the President of the National Assembly, the Minister of Health and Population and the Minister of Foreign Affairs and Cooperation, as well as visit CAMEPS, Brazzaville's Teaching Hospital and other health facilities and research institutions. As part of this important visit Dr Moeti will also visit The National Sickle Cell Center situated at the Brazzaville Teaching Hospital. "The advocacy of Sickle Cell Disease carried out by the first lady of the Republic of Congo, Madame Antoinette Sassou Nguesso both at national and international levels is extremely impressive. Sickle Cell Disease is mainly a problem of Africans and people of African descent, and we will endeavor to give it more focus in the region," stressed Dr Moeti.
While the country is committed to improving its health care system, health indicators nonetheless point to significant challenges. Life expectancy at birth is 59 years and maternal and infant mortality numbers (442 deaths per 100 000 live births and 33 deaths per 1000 live births respectively) are high. Twelve per cent of children under the age of five are underweight. There is a wide disparity in access to health services between people living in rural areas compared to those in urban areas.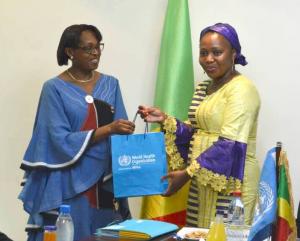 Click image to enlarge
For Additional Information or to Request Interviews, Please contact:
Dr Malecela Mwelecele Ntuli
Director
Office of the Regional Director
Tel: + 242 0655109685
Email: malecelam [at] who.int
Email: jirip [at] who.int
Communications Officer ai
WHO Congo
Tel: +242 06 624 9763
Email: moussokij [at] who.int
Communications Manager (a.i)
WHO Regional Office for Africa
WhatsAPP: +242 06 508 1009
Email: okas [at] who.int
Communications Officer
CDS/WHO AFRO
Tel: (+ 47 241) 39 942
Email: sekpona [at] who.int