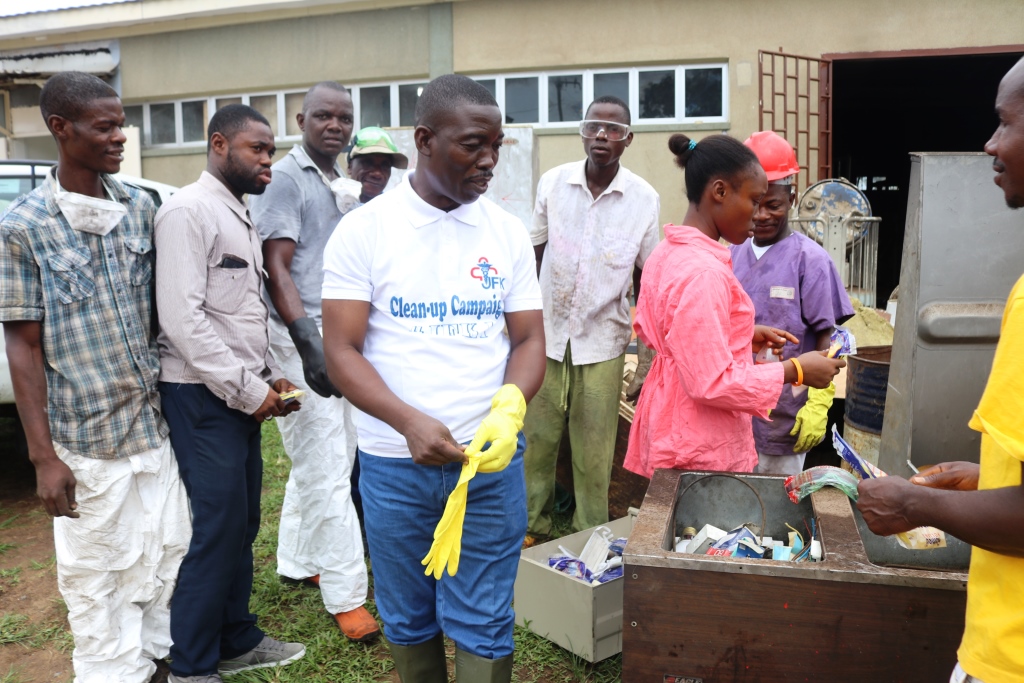 Monrovia, 17th May 2018:  The John Fitzgerald Kennedy Medical Center (JFK) with support from the World Health Organization (WHO) launched a two-day cleaning up campaign on 27th and 28th April 2018 to promote the importance of environmental hygiene and its impact on patient safety.  Dr. Jerry Brown, Chief Executive Officer (CEO) of the hospital called for this campaign to give the hospital a needed facelift, which is significant for patient centered care.
Poor environmental hygiene remains a public health problem in Liberia; as characterized by poor sanitation conditions, indiscriminate dumping, open urination and defecation. Hospital environmental cleaning has yet to receive the attention it deserves. Environmental hygiene plays a major role in the prevention of many communicable diseases. 
According to Mrs. Dama Yekeson - Koffa, Acting Deputy Director/Administrator of the hospital, the campaign is aimed at promoting safe hospital environment, not only for patients and families, but for all healthcare providers. "This is the first time the new leadership of the hospital is embarking on such a massive cleaning campaign at the hospital and we are soliciting support and commitment from all partners and sympathizers in this endeavor; we believe it will in turn gain the public's confidence in the hospital." 
The campaign generated support and excitement from diverse groups, such as community residents, private entities including City Builders, the Liberian Army, healthcare workers, and it was as an effective medium to  raise  awareness on keeping the hospital's environment clean and strengthen  stakeholders collaboration.
In a bid to facilitate the campaign and to ensure sustainability, WHO Country Representative, Dr Alex Gasasira reaffirmed the organization's commitment to JFK's leadership in ensuring the provision of sustainable, safer and quality health services for everyone seeking healthcare at the hospital.
Mrs. Dama Koffa expressed gratitude to WHO for the continued support to the health sector and described the gestures and presence of WHO teams as timely and remarkable. 
While JFK certainly cannot claim to identify all solutions to the environmental challenges, the administration has called upon the general public and all employees to develop a culture of environmental cleaning and set example for other health facilities in Liberia. 

Technical:
Moses B. Bolongei
+(231) 770205707
mbolongei24 [at] gmail.com
Quincy Goll
Tel: +(231) 770205707
Email: t.dgoll2012 [at] gmail.com