11 October 2017, Juba – Under the theme 'Mental health in the workplace' the Ministry of Health, Republic of South Sudan, World Health Organization and partners joined the rest of the world to commemorate the World Mental Health day 25th anniversary at a colourful event organised at the Nyakuron Cultural Centre in Juba town on 10 October, 2017.
This year's theme emphasizes the importance of a conducive workplace to ensuring a healthy, and sustainable workforce which is more productive and prosperous. Although mental health is a key program of the Ministry of Health, there are critical gaps which need concerted efforts to address them. There is a significant proportion of the population affected by mental health conditions and less than 1% of those affected with common and severe mental disorders are receiving the services they need. Besides, South Sudan has a critical shortage of mental health workforce and has been unable to adequately meet the mental health needs. Within the Ministry of Health establishment, there are only two psychiatrists, 20 community mental health workers, one psychiatric nurse and 30 psychologists serving a population of over 12 million people. This is equivalent to a ratio of 1 psychiatrist per 6 million, which is critically below the WHO recommended standard of at least 1 per 100 000.
'Mental health is one of WHO's priorities' said Dr Matshidiso Moeti, WHO Regional Director for Africa. In her message read by Dr Joseph Lou Kenyi Mogga, WHO NCD focal person on behalf of Mr Evans Liyosi, WHO Country Representative a.i. for South Sudan, 'We encourage countries to promote mental health in the workplace, and build broad coalitions to promote best practice, decrease negative attitudes and empower individuals to promote good mental health for all". She also noted that dignity in mental health requires every member of society to work together. It requires action in the community and, importantly, in the workplace'.
The World Health Organization and partners have supported the Ministry of Health to scale up the country's mental health and psychosocial care as well as coordinate existing efforts for better mental healthcare and psychosocial support for South Sudanese. To address the gross inadequacy in service delivery especially at the primary health care centre (PHCC) level, WHO and partners in the last six months have trained 39 health care workers on the simple mental health guidelines for early detection and management of mental, neurological and drug use disorders – mhGAP-HIG and implementation is ongoing.
'The Ministry of Health has received support from the Indian Government to construct a specialized mental health hospital and work is due to start by the end of 2017' said Dr Samson Baba, Special Advisor to the Minister of Health on special projects. To further address the critical shortage, through the BOMA Health Initiative one of the three home health promoters will engage in mental health at community level, said Dr Baba.
Others who attended the commemoration included government officials, mental health partners, NGOs, mental health professionals, mental health patients, local drama groups, university students and several stakeholders. Some patients who had recovered from mental health gave their testimonies to mitigate stigma, discrimination and negative perceptions attributed to mental illness as incurable.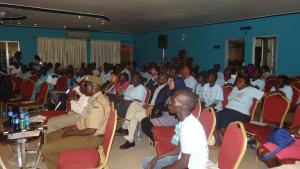 Click image to enlarge
For Additional Information or to Request Interviews, Please contact:
Dr. Mogga Joseph Lou Kenyi
Email: moggaj [at] who.int
Ms Luwaga Liliane Christine
Communication Officer (Health Promotion/Risk Communication focal person)
Mobile: +211 (0) 921647860
Email: luwagal [at] who.int