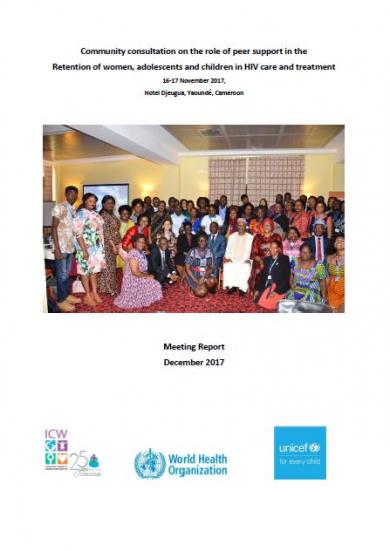 Community consultation on the role of peer support in the retention of women, adolescents and children in HIV care and treatment, 16-17 November 2017, Hotel Djeugua, Yaoundé, Cameroon
A number of global initiatives and frameworks have emphasized the importance of ensuring that women, children and adolescents with HIV have access to treatment and are retained in care with suppressed viral loads. The Global Plan towards the elimination of new HIV infections among children by 2015 and keeping their mothers alive[1] was followed in 2014 by the launch of the WHO EMTCT initiative aim towards elimination of mother-to-child transmission (EMTCT) of HIV as a public health priority[2]. Building on the legacy of the Global Plan, a Super-Fast Track framework, STAY Free - START-Free - AIDS Free for ending AIDS among children, adolescents and young women by 2020, was also launched in 2015[3].
In order to achieve these outcomes, strategic engagement with communities to support service delivery with a focus on improving retention is a key component. A substantial body of literature has documented the positive impact of community and/or peer support interventions on Prevention of Mother to Child Transmission PMTCT programs. In 2012, UNAIDS conducted a review to define the role of community and to identify and describe existing promising practices for PMTCT[4]. In 2015, UNICEF, through the Optimizing HIV Treatment Access (OHTA) initiative for pregnant and breastfeeding women conducted a literature review whose findings demonstrated and documented eleven promising practices associated with increased service uptake, adherence and or retention along the continuum of PMTCT[5]. In 2012 the Integration and Scaling Up PMTCT through Implementation Research (INSPIRE), started six implementation research projects in Malawi, Nigeria, and Zimbabwe to support scale up of interventions towards elimination of mother-to-child transmission (EMTCT). The research was completed in 2016 and its outcomes confirmed the critical role of peer supporters to promote retention in care for pregnant and breastfeeding women with HIV.
---