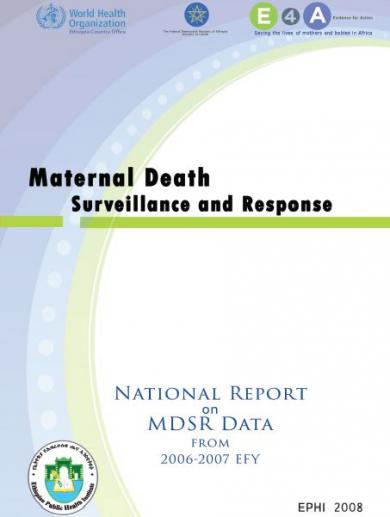 Ethiopia - National Maternal Death Surveillance and Response System Annual Report 2006-2007 EFY
The Ethiopian national Maternal Death Surveillance and Response (MDSR) system has been active since 2006 (Ethiopian calendar), with formal integration into Public Health Emergency Management (PHEM) data collection since 2007. Maternal death is one of the 14 immediately reportable conditions in Ethiopia. This reflects reflecting its prioritization at all levels of the health system and the political commitment to working towards preventing the majority of maternal deaths.
This report is the first national MDSR report, and summarizes key findings from the first two years of the MDSR system, 2006-2007. All case-based reports following local review of maternal deaths have been collected into the national MDSR databases managed by EPHI for regular analysis. In future, annual reports will be produced to allow for year-to-year comparisons.