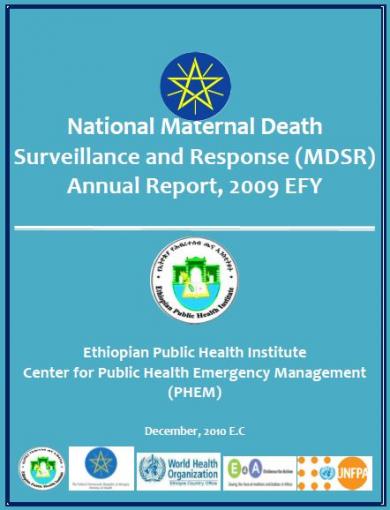 Ethiopia - National Maternal Death Surveillance and Response System Annual Report 2009 EFY
For the third consecutive year, Ethiopia has synthesized nationally aggregated data on maternal deaths that have been reported through the Ethiopian Maternal Death Surveillance and Response (MDSR) system. In this Annual MDSR report, we present data for maternal deaths that have occurred in the Ethiopian fiscal year (EFY) 2009.
This report provides an overview of maternal mortality throughout the country, highlighting key indicators by geography and socio-demographic distribution of deaths, as well as data on its causes and determinants. As in previous reports, the three Delay model is used to characterize shortcomings in the health system related to community knowledge and preparedness (delay in recognizing a problem), transport costs and infrastructure (delay in reaching care), and clinical service quality (delay in obtaining required care). Recommendations for addressing these delays follows interpretation of the data in a chapter focused on evidence-based responses at every level of the health system.