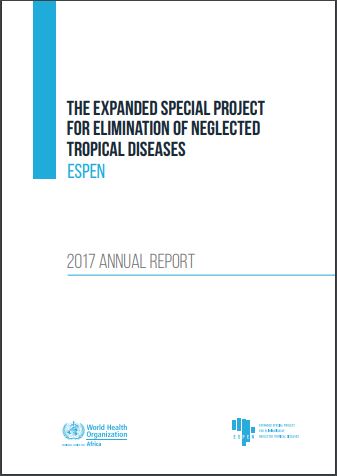 The Expanded Special Project for Elimination of Neglected Tropical Diseases (ESPEN) Annual Report 2017
With an initial budget of US$15 million, in 2017 ESPEN provided direct operational and technical support to 32 countries:
14 countries* developed annual national plans of action and otherwise enable Ministries of Health in 17 countries** to leverage donated drugs for mass drug administration (MDA) programs scaling up treatments to target an additional 30 million people for at least 1 PC-NTD, in support of global NTD, UHC, and health system strengthening goals.
132 million tablets were recovered in 7 countries through supply chain analysis.
49 participants from 17 countries were trained to improve the management of donated medicines including the timely submission of the Joint Aplication Package (JAP) to WHO.
ESPEN completed the unprecedented mapping of targeted PC-NTDs and launched an on-line open access data portal to give access to subnational data on NTDs in Africa, with a view to empowering Ministries of Health and other NTD partners with the information needed to make smart investments for NTD elimination and control.
With a strong focus on achieving disease elimination ESPEN trained representatives from 20 countries to conduct integrated transmission assesment surveys (iTAS) for LF, oncho and STH to stop treatment when transmission has been interrupted or transition towards a different drug regime when at least one of the diseases remains as a public health problem
*Benin, Comoros, Ethiopia, Guinea Bissau, Nigeria, Chad, Tanzania, Guinea, Democratic Republic of the Congo, Togo, São Tomé and Príncipe, Central African Republic, Congo and South Sudan.
**Burundi Cape Verde, Chad, Comoros, Congo, Democratic Republic of the Congo, Eritrea, Ethiopia, Gambia, Lesotho, Madagascar, Malawi, Nigeria, São Tomé and Príncipe, S. Sudan, Sudan and Zambia.