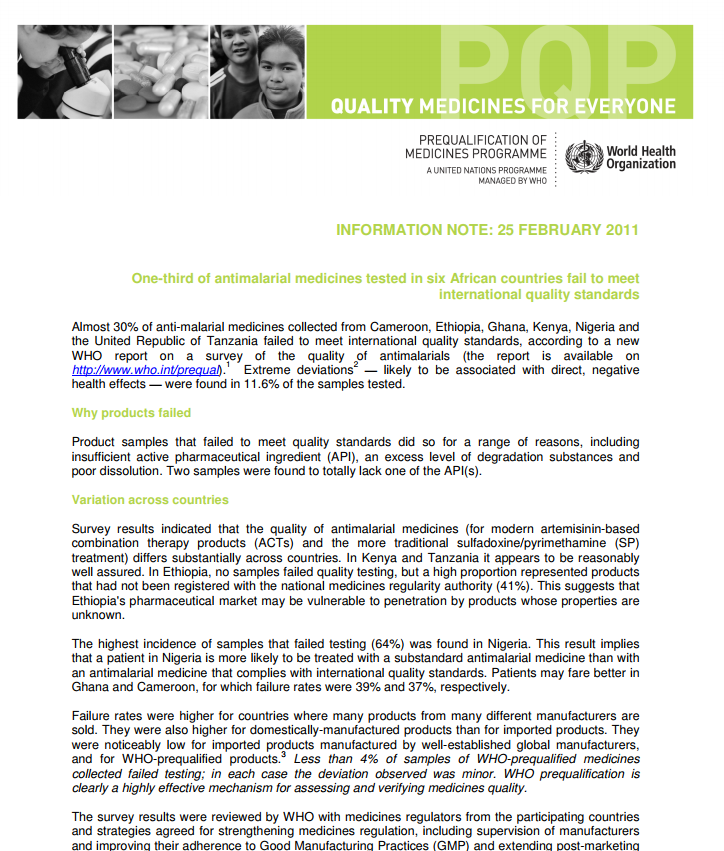 One-third of antimalarial medicines tested in six African countries fail to meet international quality standards - Information Note: 25 February 2011
Almost 30% of anti-malarial medicines collected from Cameroon, Ethiopia, Ghana, Kenya, Nigeria and the United Republic of Tanzania failed to meet international quality standards, according to a new WHO report on a survey of the quality of antimalarials. Extreme deviations likely to be associated with direct, negative health effects were found in 11.6% of the samples tested.
Why products failed
Product samples that failed to meet quality standards did so for a range of reasons, including insufficient active pharmaceutical ingredient (API), an excess level of degradation substances and poor dissolution. Two samples were found to totally lack one of the API(s).
Variation across countries
Survey results indicated that the quality of antimalarial medicines (for modern artemisinin-based combination therapy products (ACTs) and the more traditional sulfadoxine/pyrimethamine (SP) treatment) differs substantially across countries. In Kenya and Tanzania it appears to be reasonably well assured. In Ethiopia, no samples failed quality testing, but a high proportion represented products that had not been registered with the national medicines regularity authority (41%). This suggests that Ethiopia's pharmaceutical market may be vulnerable to penetration by products whose properties are unknown.