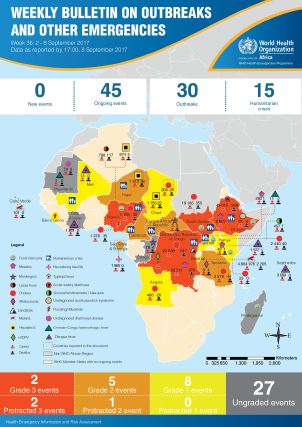 Outbreaks emergencies updates - Week 36: 2 - 8 September 2017
This weekly bulletin focuses on selected acute public health emergencies occurring in the WHO African Region. The WHO Health Emergencies Programme is currently monitoring 45 events in the region. This week's edition also covers key ongoing events, including:
Cholera in Borno State, Nigeria
Necrotising cellulitis/fasciitis in São Tomé and Príncipe
Humanitarian crisis in the Central Africa Republic
Cholera in the United Republic of Tanzania
Cholera in Chad
Dengue fever in Côte d'Ivoire.