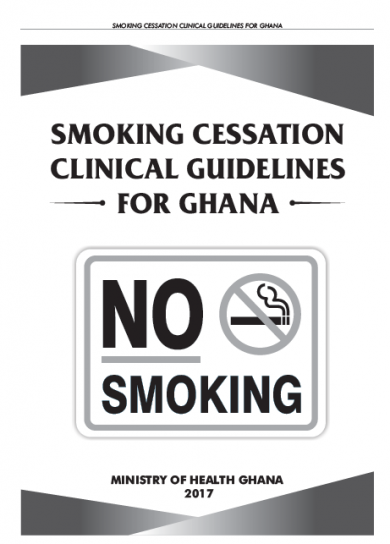 Smoking Cessation Clinical Guidelines for Ghana
Treating tobacco dependence has been well studied and seen to be cost effective. Tobacco cessation support delivered by healthcare workers trained in tobacco cessation techniques can greatly benefit tobacco users who are trying to quit. Health facilities including hospitals are a good opportunity to offer tobacco users some help at a time of personal vulnerability, which may make individuals more receptive to tobacco cessation messages.
Access to specific training, skills and knowledge by healthcare workers and other interested groups working in the health sector is therefore essential. This will result in improvements in service delivery to those who need it. In October 2012, Ghana adopted a Public Health Act (Act 851 2012)
whose provisions in Part 6 (Tobacco Control Measures) among others has age limitation for those who can buy and sell tobacco products, bans tobacco advertising, promotion and sponsorship; warns the public against the harmful effects of tobacco use and provides information and education to the public and an opportunity for those smoking who wish to quit to have access to service. These measures go hand in hand with other efforts aimed at addressing the tobacco use epidemic. These clinical guidelines therefore offer a most important tool in our efforts to reduce tobacco use in Ghana. I encourage health workers to make use of this document to benefit the people of Ghana.