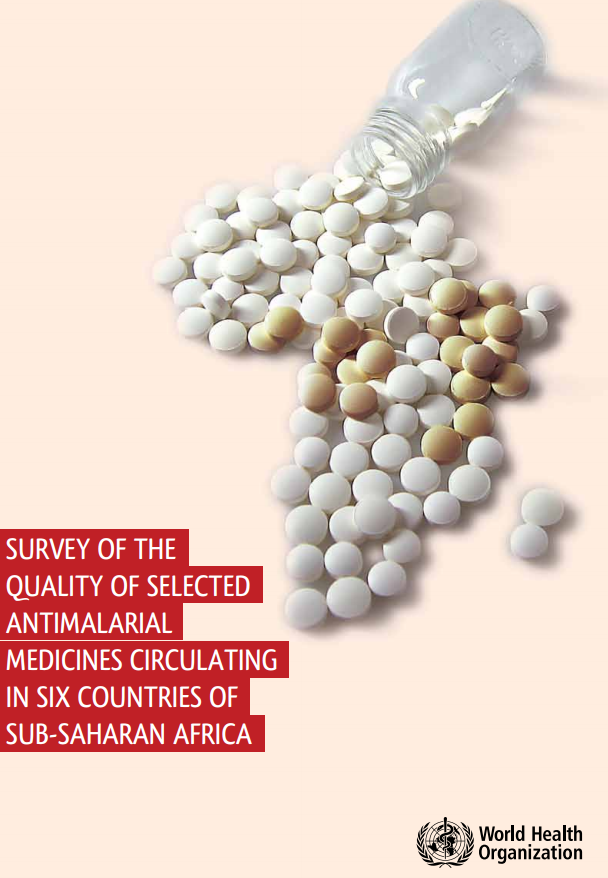 Survey of the quality of selected antimalarial medicines circulating in six countries of sub-Saharan Africa
The survey aimed at evaluating the quality of selected antimalarials in six countries of sub-Saharan Africa (Cameroon, Ethiopia, Ghana, Kenya, Nigeria and the United Republic of Tanzania). These countries have been supported by WHO to strengthen their regulatory controls over antimalarial products.
The survey was organized independently of manufacturers of antimalarial medicines. The specific objectives of the survey were to:
estimate the proportion of artemisinin-based combination therapy (ACT) products and sulfadoxine/pyrimethamine (SP) products meeting specific quality standards at different points of the regulated and informal distribution systems;
estimate the proportion of counterfeit ACT and SP products at different points of the regulated and informal distribution systems;
identify possible causes for any findings;
propose possible strategies and implementation plans to address the problems identified.
Method
The survey was conducted through WHO cooperation with the national drug regulatory authorities from participating countries. Trained survey teams in each country were responsible for collecting samples according to national sampling plans from different distribution levels including the informal market in at least three geographical regions of high malaria prevalence. In total 935 samples were collected in the period April - June 2008 and were screened using GPHF-Minilab® kits. Based on predefined criteria, 306 samples (from 64 manufacturers and 218 sampling sites) were selected for full quality control testing in the WHOprequalified laboratory in South Africa and in the United States Pharmacopeia (USP) laboratory in the USA.
Testing was coordinated by WHO, and specifications of the International Pharmacopoeia or USP were used. During the survey, data were collected that made it possible to relate the results of quality testing to distribution levels, geographical regions, domestic production or import, registration status and prequalification status.
Findings
Of 306 samples selected for laboratory testing, 267 were fully tested and 28.5% of them failed to comply with specifications. Although non-compliance with pre-established criteria cannot be directly related to a risk for patients' health, such a high failure rate indicates a substantial problem in the quality of antimalarials present in distribution channels. Focusing only on extreme deviations from specifications (as defined in this report), which are likely to be associated with health implications, the failure rate reached 11.6%.