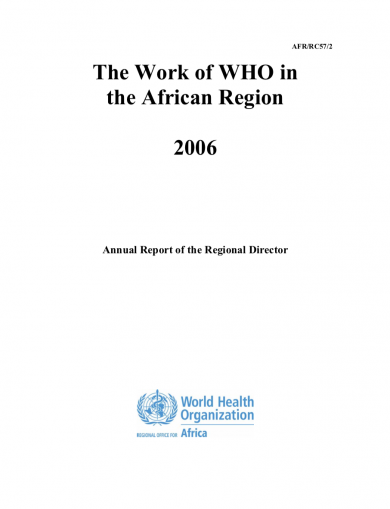 The Work of WHO in the African Region, 2006 - Annual report of the Regional Director
The work of WHO in the African Region 2006 is a progress report on the implementation of the Programme Budget 2006-2007 in the African Region for the first year of the biennium. As a general orientation for 2006-2007, the Director-General was committed to the decentralization policy in order to strengthen WHO's capacity in countries. This policy required delegation of authority and shifting appropriate human and financial resources to country level where they were most needed.
In line with this policy, the Regional Director, in a document entitled Strategic orientations for WHO action in the African Region, 2005–2009, defined five priorities for work. These included (i) strengthening the WHO country offices, (ii) improving and expanding partnerships for health, (iii) supporting the planning and management of district health systems, (iv) promoting the scaling up of essential health interventions related to priority health problems, and (v) enhancing awareness and response to the key determinants of health.